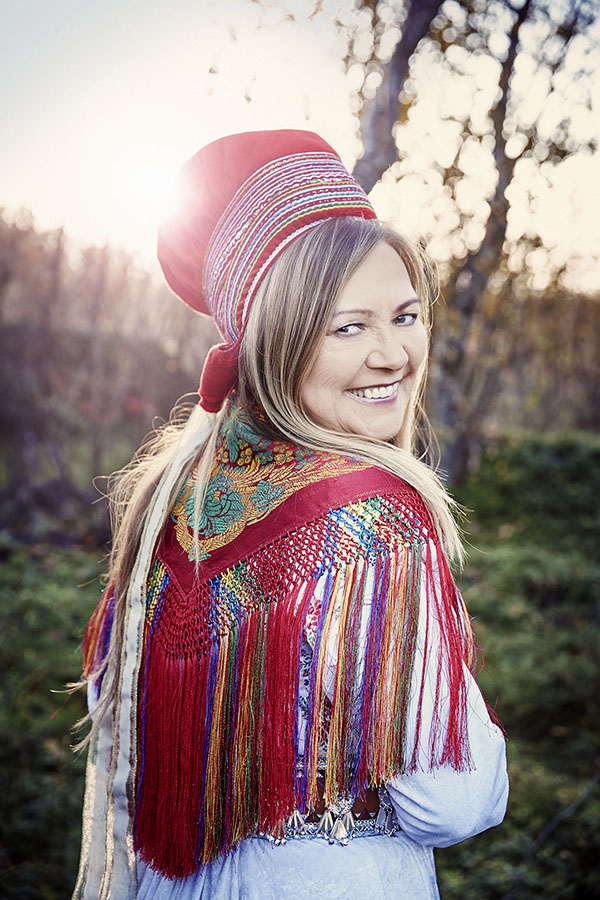 Imagine
the ice and snow of the Arctic landscape, the bitter cold of the Northern wind, the hint of compelling blue under a crystallized lake.
Close your eyes.
Then listen.
Really listen.
You'll
feel
a voice before you even hear it.
It's like none other.
It's a voice that brings the landscape alive with a mesmerizing purity; a voice that represents a thousand years of ancestral connection to an unyielding frozen space.
This is Mari Boine.
Musician.
Songwriter.
Singer.
A genre-bending trailblazer with a taste for jazz, folk, rock, and world.
An artist whose music is inspired by and infused with her Sámi roots.
A woman who knows who she is, where she's come from and what she stands for.
A music icon who has inspired indigenous artists the world over.
Mari Boine. She's got soul.
"It's completely irrelevant what you call her music.
Her music blends seamlessly into the rhythms and sound picture of our times.
She could have sung her songs a thousand years ago or a thousand years into the future and still retained the same depth and resonance.
In other words, it is like Mari Boine's voice reveals just the smallest sliver of eternity," said one critic about her album Gávcci Jahkejuogo (Eight Seasons).
"a good language to sing in, so rich for the voice"
When Mari Boine made her music debut in the early 1980s, she was an angry young woman. And she had every right to be. Christianity, repression of the Sámi language and the oppressive culture of "the big men down south" – these all weighed heavily on the mind of a girl raised in her native language but discouraged from performing traditional joik. After all, it was "devil's work."
"The

first music I ever heard was from my parents, singing hymns.
We had no records or television in our home.
My strict religious parents never allowed that.
We did own a radio, but it was restricted to listening to the news, weather forecasts and Sunday church service," says Mari.
"But of course, when our parents were out or at night, we discovered music from all over the world on those radio channels.
In fact, I first heard jazz on that radio".
Outside the family home, Mari absorbed the music of nature, like the wind "singing" and in spring – birdsong.
Performing first in Norwegian and English, Mari eventually switched to her native tongue Sámi – "a good language to sing in, so rich for the voice," she said.
Mari channeled her personal and political frustration into the 1989 breakthrough album Gula Gula, which propelled her into popular culture both at home and internationally and gave her a platform to advocate for Sápmi.
By telling my own personal story as a Sámi, I feel I'm sharing a piece of my people's story.
"It is not that I was always a political activist," she says. "And I certainly never profess to represent Sápmi.
It's just that music gave me a profile and gave me a platform, so I used it.
By telling my own personal story as a Sámi, I feel I'm sharing a piece of my people's story.
After all, my songs describe the pain of oppression and the struggle to reclaim self-respect, but I also sing about the joy of growing up within a culture that has such a close bond with nature."
In 1993, Mari's album Goaskinviella (Eagle Brother) was awarded the Norwegian equivalent to a Grammy.
A decade later, Mari was recognized with the Nordic Council's Music Prize.
This special award acknowledged her artistic achievements, but also her ability to connect with a global audience while still maintaining her integrity as a Sámi.
Mari Boine has a new album. See the Woman.
And as to be expected from Mari Boine, this new album has a twist.
"For this project, I really wanted to do something different. So, I reached back into my past, to the kind of music I listened to when I was younger. Much of the music I've been making up until now has a shamanistic beat at its core.
My new project is full of keyboards and synthesizers and to me, it's more experimental.
These sounds create space for me to tell more complex stories."
"It's been a real challenge to see whether my own vocal style (which is heavily influenced by traditional Sami styles) can work in a language that isn't my mother tongue.
I think I've pulled it off. It's an album I'm very proud of."
— Moana Maniapoto (singer)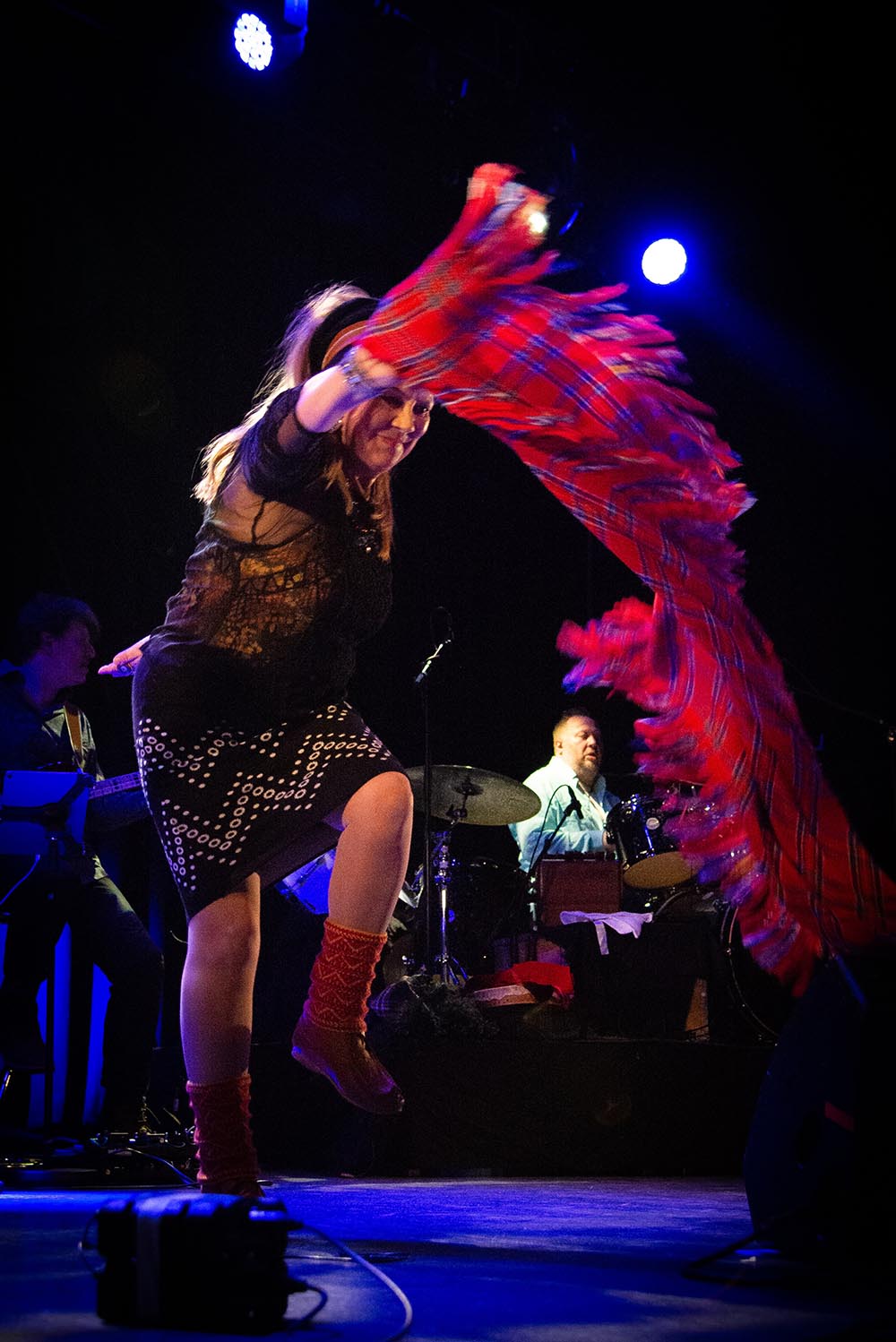 Almost 30 years have passed since Mari Boine swept music lovers around the globe off their feet.
First with her astonishing solo album "Gula Gula" which was released internationally on Peter Gabriel's famous RealWorld label. Then in the same year, with her participation in the breath-taking video clip "One World One Voice" produced by Rupert Hines.
For "Gula Gula" Mari received the first of her three "Spellemannsprisen" (commonly referred to as Norway's Grammy Award).
With her exotic voice informed by the long time oppressed shaman culture of the Norwegian Sami, an indigenous people often compared to Native Americans, and her almost trance-like folk music, Mari Boine created together with sámi guitarist Roger Ludvigsen, a sound universe of her own.
Today she is revered as a truly unique artist whose trajectory led her to release more than a dozen highly-acclaimed solo albums and collaborate with stellar Norwegian jazz musicians like Jan Garbarek and Bugge Wesseltoft.
From the start, Mari Boine has been one of the most outspoken and important representatives of the Sami culture.
As an artist and activist, she has worked tirelessly for the recognition and preservation of the indigenous Sami culture, thus inspiring younger generations to be proud of their unique roots. Even though Boine draws heavily on her musical heritage (Christian Lestadian hymn singing, Sami joik chants, and Norwegian folk music), she masterfully blends these influences with modern musical elements from jazz, rock, and pop.
After her initial success, she released the albums "Goaskinviellja/Eagle Brother" (1993), "Leahkastin/Unfolding" (1994), and "Eallin/Live" (1996) which earned her three German Jazz awards even though the music could hardly be labeled as jazz.
The new millennium saw Boine reaching out to new audiences with a couple of highly original remix albums ("Mari Boine Remixed" in 2001 and "It Ain't Necessarily Evil" in 2008) featuring reworks by heavyweights like Bill Laswell, Chilluminati, Nils Petter Molvær, Jan Bang, Jah Wobble, Mark de Clive-Lowe, Raymond Pellicer, Henrik Schwarz, Mungolian Jetset, and Mental Overdrive.
Furthermore, she co-wrote music for German film director Anne Wild's adaptation of the fairy tale "Hansel and Gretel" (2005) and Nils Gaup's movie "The Kautokeino Rebellion" (2008) about the religious and cultural reawakening that in 1852 inspired a Sami revolt in a small Norwegian village.
In 2009 she broke new grounds on "Čuovgga Áirras/Sterna Paradisea" collaborating with South African musicians and adopting a lighter, more pop-like approach.
After a lengthy hiatus, Mari Boine returned in 2017 with "See The Woman", a surprising new album is sung, for the first time ever, entirely in English.
In 2018, she was the recipient of the "Spellemannprisen" honorary award for her lifetime achievements and became a member of The Royal Swedish Academy of Music.
At a time when the vast majority of popular singers seem to follow predetermined patterns, Mari Boine has managed to stand out as one of a kind.
Constantly evolving, changing, modernizing, and daring, but never bending to the rules of the recording industry.
"It's completely irrelevant what you call her music," one critic once wrote about her.
"Her music blends seamlessly into the rhythms and sound picture of our times.
She could have sung her songs a thousand years ago or sing them a thousand years from now and still retain the same depth and resonance.
In other words, it is like Mari Boine's voice reveals just the smallest sliver of eternity."
— Jörg Eipasch (German music journalist)